The AISL Harrow Scholarships Foundation invites academically gifted students from around the world to apply for the AISL Harrow Scholarships 2024/26 which offers a unique opportunity to study A Level at one of the AISL Harrow Schools.
 A charitable initiative of the AISL Harrow Scholarships Foundation to drive educational advancement, the AISL Harrow Scholarships 2024/26 is accepting applications from 20 October to 8 December 2023. Heading into its fourth year, the AISL Harrow Scholarships programme is a prestigious opportunity for outstanding students around the globe to study A Level (pre-university education) at one of the participating AISL Harrow Schools.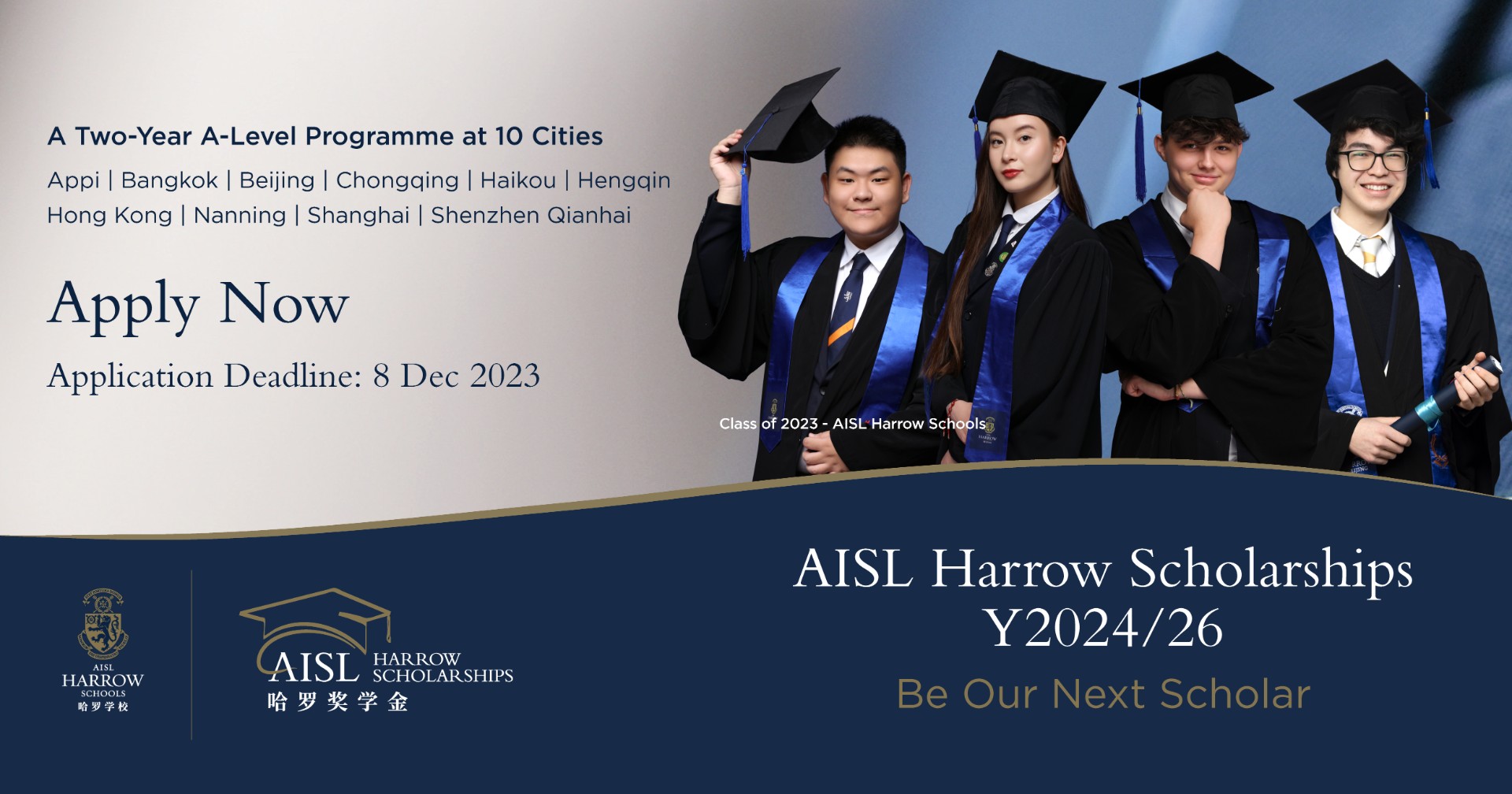 Create a positive impact on our communities through education
The establishment of the AISL Harrow Scholarships Foundation is a key component of AISL's broader suite of Corporate Social Responsibility strategies to foster the development of talented individuals who possess the potential to shape a brighter future for our world. It seeks to expand and diversify the Harrow community by attracting academically gifted students from around the world, who demonstrate Harrow's Core Values, to study in the AISL family of schools.
Successful applicants will receive full tuition, boarding and examination fee scholarships that offer them access to a Harrow-branded education known for its 'Educational Excellence for Life and Leadership'. Since its inception in 2021, the Scholarships programme has been awarded to 16 scholars from over 1,300 applicants and continues to nurture and foster visionaries and talents for tomorrow.
Exceptional feats of our inaugural scholars
The first cohort of five scholars graduated this summer with a total of 18 A* and A grades in their A Level examinations, leading them to university offers from some of the most prestigious names, including the University of Cambridge, Harvard University, University of Pennsylvania and more.
'Being an AISL Harrow Scholar gave me a sense of responsibility to always maintain my personal and academic standards, and always look out for the community.'
'The University of Pennsylvania has always been my dream school and the AISL Harrow Scholarships programme has really helped me achieve this dream.'
'My school gave me a new sense of confidence and encouraged me to take on new challenges and get out of my comfort zone.'
'It is heartening to see the remarkable growth exhibited by our first cohort of scholars during their two years of studies with AISL Harrow Schools. These unparalleled achievements are a testament to the programme's success in supporting scholars to advance their studies and secure coveted placements in top-tier universities,' commented Dr Rosanna Wong, Chairman of Asia International School Limited.
Ten school locations with 20 scholarships opportunities across Asia
Ten schools within the AISL Harrow Family of Schools are taking part in the AISL Harrow Scholarships 2024/26. They include AISL Harrow Schools in Bangkok, Beijing, Hong Kong, Shanghai, Shenzhen Qianhai and Haikou, and four additional schools joining for the first year: Appi Japan, Hengqin, Chongqing and Nanning. Each participating school will grant scholarships to up to two scholars, offering a total of 20 scholarships opportunities for this year.
The Foundation welcomes applications from outstanding young minds who show passion, genuine commitment to continuous improvement and willingness to take on challenges. Dr Rosanna Wong said, 'While top-tier academic performance is a fundamental requirement for application, we also prioritise leadership potential, commitment to co-curricular school life, and commitment to service. We look for demonstration of Harrow Core Values – courage, honour, humility and fellowship – in the most illustrious ways in the applicants.'
Application timeline
Applicants can submit their expression of interest forms from 20 October to 8 December 2023. Shortlisted applicants will be invited to an A Level assessment test between 8 and 30 January 2024. Online interviews with AISL's educators are scheduled from 5 to 29 February 2024 and the final results will be announced on 8 April 2024.
Further details and online application forms are available at the official website aislharrow.com/apply-for-aisl-harrow-scholarships-2024/. Interested parties can follow AISL Harrow's social media channels for the latest updates.
ABOUT THE AISL HARROW SCHOLARSHIPS PROGRAMME
Establishing the AISL Harrow Scholarships Programme is another milestone in AISL Harrow's long history of educational excellence. The Programme seeks to enhance the diversity of the AISL Harrow community by attracting academically gifted students worldwide. The scholarships allow students to experience all that a Harrow education affords: excellence in and out of the classroom, the developing of leadership skills, and a commitment to service.
Through the AISL Harrow Scholarships programme, AISL is proud to be giving back to the global community, extending the availability of an excellent AISL Harrow education to students worldwide, allowing them access to a prestigious British education and, subsequently, to top universities.
Alongside the AISL Harrow Scholarships, the individual Harrow-branded schools in Asia also provide scholarship opportunities for gifted students. To learn more, please subscribe to AISL Harrow's official Facebook Page (AISL Education Group – AISL Harrow I Outdoor I Academy), Instagram account (@aislharrowschools) and view the AISL Harrow Schools website at aislharrow.com/aisl-harrow-scholarships/.