Innovative Education Technology Services Limited (IETSL), a subsidiary of Asia International School Limited (AISL), signed a Memorandum of Understanding with Incheon Free Economic Zone Authority (IFEZA) today, intended to expand the presence of the Harrow branded education to cover Korea for the first time.
A dedicated project team led by Jinyong Kim, Commissioner of IFEZA, visited Harrow International School Hong Kong for an on-site experience, followed by signing of the memorandum which marked the official beginning of the partnership. IETSL was represented by Mr Eric Leung, Chief Executive Officer of AISL.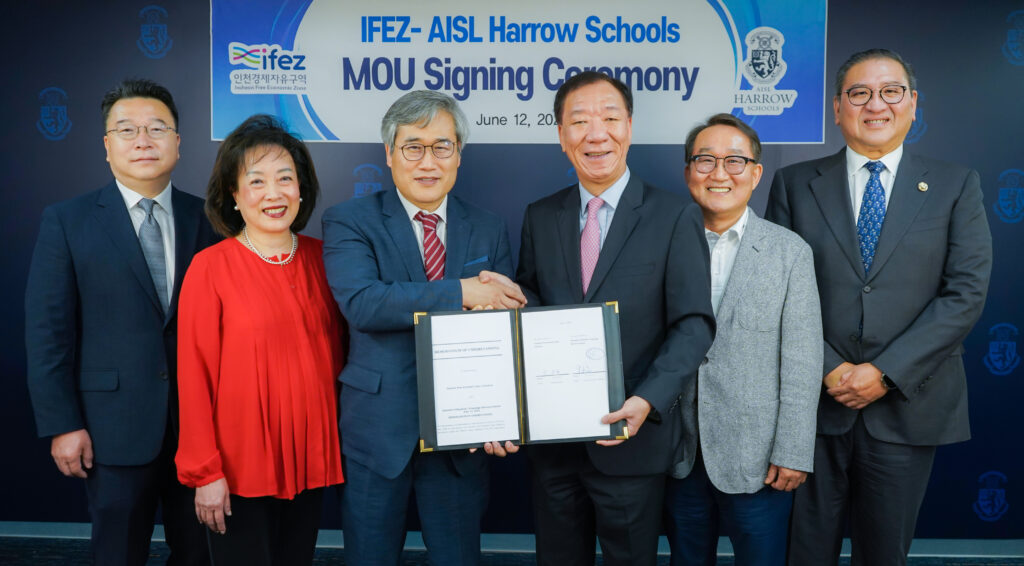 MOU Signing Ceremony (from left to right: Mr Jung-Beck Kim, Policy Special Adviser, IFEZA; Dr Rosanna Wong, DBE, JP, Chairman, AISL; Mr Jinyong Kim, Commissioner, IFEZA; Mr Eric Leung, Chief Executive Officer, AISL; Jong-Hwan Kim, Director General of Investment, IFEZA; Mr Daniel Chiu, Founder, AISL)
The memorandum confirms the commitment of both parties to introduce Harrow's 450 years of heritage to Korea, with the establishment of an AISL Harrow International School in the Songdo District of Incheon Free Economic Zone, subject to the approval of the Harrow School Governors. Deeply rooted in Asia for 25 years, AISL has a profound experience in offering exceptional education to prepare students with diverse background and abilities for a life of learning, leadership, service and personal fulfilment. Currently, 12 AISL Harrow Schools are in operation across key cities in Asia.
'We are honoured to work with IFEZA and this partnership is another milestone in the development of the AISL Group,' commented Mr Eric Leung. 'We look forward to further expanding our AISL Harrow Schools and nurturing talents in Korea for tomorrow through delivery of Educational Excellence for Life and Leadership'.
'Incheon Free Economic Zone Authority is extremely honoured to bring such an esteemed institution as Harrow School into the heart of Korea, Songdo', commented Mr Jinyong Kim. 'We look forward to working with AISL, who has a proven track record of deploying the same values and quality of education of Harrow School in the UK to 12 locations in Asia.  This further strengthens our vision of creating an educational hub in Asia with several top international schools as well as five leading universities in Incheon Global Campus with plans for the second phase of development with five additional universities.'
About Asia International School Limited (AISL) Group
Asia International School Limited (AISL) Group is a leading provider of education services in Asia. It owns and operates  Harrow International Schools, Harrow LiDe Schools, Harrow Hong Kong DSE School and Harrow Little Lions Early Years Centres, which proudly draw on the 450-year heritage of Harrow School in the UK, embracing the Harrow School Values of Courage, Honour, Humility, and Fellowship. We are committed to the highest standards and quality of education for all students, delivering educational excellence for life and leadership. The AISL Harrow Schools use Harrow School's name and badge under a sub-licence granted by Harrow International Schools Limited (HISL), a trading subsidiary of the charity registered in England which owns Harrow School and its trademark.
AISL also believes in investing in how educators learn so that they may better teach and nurture their students to their highest capabilities. We believe in sharing best practices and we believe that young people should be given opportunities outside the classroom as they augment their intellectual abilities to be ably prepared for the future.